Congers Piano Tuning Expert -- Charles Flaum, RPT
If you are a piano playing denizen of the hamlet of Congers, New York in Rockland County, your home is situated in a quaint area surrounded by lakes. If you are lucky enough to own a piano in Congers, likely you already know or have heard of Charles Flaum, who has been tuning pianos in Congers for over twenty years.
Sure, Charles tunes pianos. He repairs broken strings, cracked or missing keys, tracks down annoying buzzes, and helps make the keys depress smoothly, easily and have a great "piano action feel". He also advises and helps people upgrade to better instruments when their children surpass their expectations, which is always such a nice reason to need a better piano. He can teach you everything you need to know about positioning your piano for longevity and advise you on a sensible maintenance schedule that will guarantee your piano lives a long and beautiful sounding life. He went to the best school for piano technology in the country in the 1980s, and has numerous professional accomplishments including being President of a local PTG guild chapter, working as a trained concert and artist technician, and being the technician of choice for a variety of music studios, award winning pianists and classical music festivals in New England.
What makes Charles Flaum a unique individual is that he is a dyed-in-the-wool original – not only is he a fine craftsman with decades of experience maintaining thousands of pianos in the Rockland area, but he has also just finished a 7-part video series that teaches people how to make the best decisions when buying a new or used piano. He has combined his expert knowledge of pianos with his understanding of the everyday decisions people make when they are trying to buy a complicated product they don't know very much about. And Charles isn't going to sell these videos, which took him almost two years to make, he has simply made the videos so that people can learn before they buy, save money and avoid making some of the big mistakes people typically make during this process. He's generously sharing his knowledge, in a fun and animated way. He is truly an educator when it comes to talking about pianos, and he goes out of his way, as he has for decades, to make sure people know as much as they need to about their pianos.
Several professional studio musicians live in Congers and rely on Charles to keep their pianos at recording performance level. Whether you are a professional musician, a music teacher or simply a person with a love for the softly modulated tones possible in a well voiced piano, Charles Flaum is happy to perform sophisticated "voicing" adjustments of your piano to help the sound fill the room just as you like it to.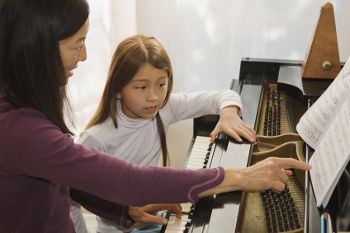 This is an example of a piano that is in a "Bright" room, where the piano needed to be specially voiced to accommodate the acoustics of the room – in this case the room is 'bright' due to all the hard surfaces
Charles can rebuild the actions of fine grand pianos – in fact his training includes the ability to diagnose and solve an infinite number of mechanical problems that occur as pianos age and suffer the ultimate fate of pianos exposed to annual cycles of weather, rising and falling humidity, innumerable heating and cooling cycles, and the gradual deterioration of 10,000 wooden parts held together in a delicate balance under thousands of pounds of pressure – in other words, your piano.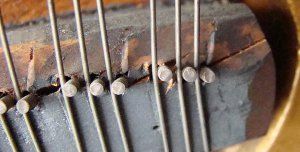 This is an example of a piano that is in a "Bright" room, where the piano needed to be specially voiced to accommodate the acoustics of the room – in this case the room is 'bright' due to all the hard surfaces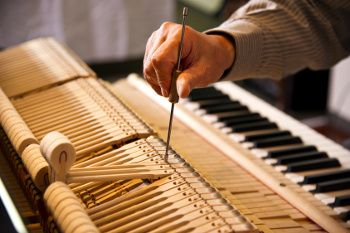 Pianos do deteriorate, but can also be refurbished, repaired, and rebuilt by a highly trained technician