Monsey Piano Tuning Expert Charles Flaum
Piano players in Monsey, New York have relied on Charles Flaum since before 1990 for piano tuning, piano repairs and sage piano advice. Monsey, a family oriented village in Rockland County, is full of piano lovers with cherished pianos in their homes. His website rocklandpianotuning.com gets new customers every day, but Charles has known many of his customers for over twenty years, tuning their pianos twice a year or more. Frequently he is the only piano tuner his customers have ever known.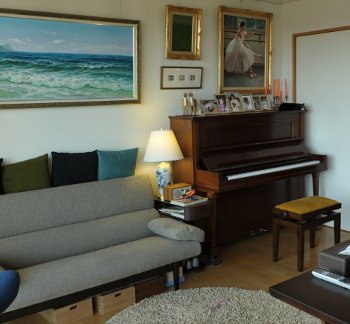 A typical living room in Monsey, with artwork & family photos on the walls and a well tuned upright piano in the corner, well-tuned and ready for a Monsey family to play.
Charles Flaum offers far more than simple piano tuning. He can also advise you on where to place a piano in your home to maximize its longevity (position a piano to avoid drafts and heating sources). He can also advise people how to shop smart when they are buying or selling a new or used piano. In fact Charles has just completed a 7-part video series that helps people through the piano buying process step by step. These videos, which he will distribute by email request, are an incredible example of how well Charles can articulate and teach others about the instrument he knows so well. The fact that he has written the scripts and been completely involved in producing, animating, editing and scoring the videos says a lot about Charles' expertise and piano enthusiasm. He is an all-around piano expert with a flair for teaching and a passion for sharing his knowledge. His next videos will be about caring for your piano. Each video will be a step-by-step guide to one particular aspect of piano maintenance.
Charles Flaum not only tunes pianos but can help you get your piano to sound its best, and play at its best. He can adjust the feel of the keys, alleviating a slow heavy playing action to being a light and lively playing action. This process is called action regulation. In another process called "voicing" Charles can help your piano sound more mellow, or brighten the sound while you listen and tell him exactly how you want the sound to be. He eliminates buzzes and sour notes as well as odd twangs. He repairs broken strings, replaces missing ivory keys, and adjusts pedal actions. When necessary he can replace or repair a cracked pinblock, repair cracks in a soundboard, and many other services that only a highly trained piano rebuilder can perform.
If you live in Monsey, New York, and you have a piano or want to buy one you should certainly give Monsey piano tuning expert Charles Flaum a call at 845-542-4706 or check out his website: rocklandpianotuning.com.
When in Monsey piano tuning, Charles Flaum enjoys a stellar reputation as a piano technician who can accurately appraise and advise you on your piano's needs, value and care. He gives insurance appraisals and can add value to your investment and enhance your piano playing enjoyment by maintaining the condition of your playable instrument.
Charles tunes pianos for schools, hospitals and nursing homes, and of course temples and religious institutions. He has always had a strong base of piano teachers who he tunes for regularly, and they in turn recommend him to their students and families. Pianos and piano education is a fundamental core of our culture and society. Pianos have over 10,000 working parts, most of them made of wood. Being a master technician, with such in-depth knowledge of such a complex instrument is, unfortunately, now a rarified profession.
Charles, a Registered Piano Technician (RPT), is certified by the Piano Technician's Guild (an international organization). In the mid-1980s Charles studied hands-on Piano Technology during a two year intensive program at North Bennet Street, which is the oldest trade school in America and bases its instruction on time proven European mastery methods. Raised in Suffern, Charles returned to Rockland County to practice his craft and raise his family. He has always advocated people make sure to use an RPT no matter what. Over the decades Charles served as President of his local PTG chapter twice, but he is better known by the Rockland Piano Teachers Guild as a dedicated craftsman who is full of knowledge, skill, piano lore and advice.