Nanuet Piano Tuning Expert Charles Flaum
Nanuet, New York is a lovely hamlet filled with cultured people and families. Many of these families own pianos, which for decades have been tuned by Charles Flaum. A longtime resident of Rockland County, Charles was raised in Suffern and a graduate of Suffern High School in the 1970s. Charles returned to his hometown in the late 1980s after attending college for a degree in professional music and then completing a two year course in piano technology at America's foremost European trade school in Boston, North Bennet Street School. Back in New York he married and raised his family and built a great reputation as a highly skilled and dedicated piano tuner and technician.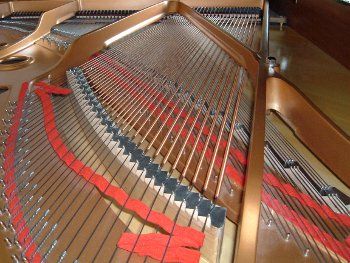 This is an overview of the metal plate, strings, felt, and notched bridge of a grand piano. Charles can show you how to keep it dust-free, he can also keep it beautifully tuned. He can track down and fix any annoying buzzes or vibrations, and if needed can repair or replace any part of your piano to keep it in top condition.
Charles provides full-service piano maintenance and care. He does not just tune your piano; he lets you know everything you need to do to maintain your piano investment over the long term. He tunes, does pitch raises, repairs broken strings and replaces missing keys. He can track down annoying buzzes, vibrations and sour notes. But he also does much finer and more refined work for people who want their piano to be responsive and sound a certain way in their home. For these customers Charles takes the time to do hammer voicing (which can make the piano sound brighter or mellower, as you prefer) and action regulation (which adjusts the weight of the keys until they have the ease of use, speed and repetition quality you personally prefer). He can install a Damp Chaser to help forestall the long term damage of East Coast winters and extreme changes in humidity that our heating seasons cause to pianos. He can help you order custom piano covers to protect pianos from a variety of environmental influences and locational trauma. Overall Charles is a dedicated professional whose goal is to make you a long term happy piano owner and a customer for life.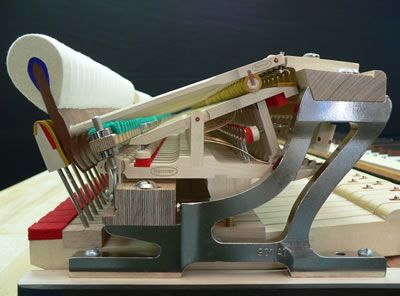 This is a side view of a grand piano action which has thousands of working parts, which need to be perfectly aligned and adjusted. As you can see, many of these parts are made of wood, which swells and shrinks according to the heat and humidity in the room. Is it any wonder that pianos go out of tune and need regular servicing?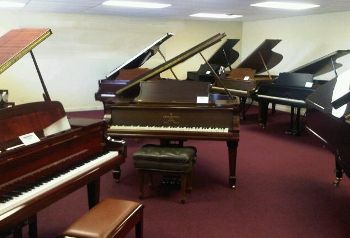 Would you know how to pick the best piano for you? Charles Flaum's video series "How to Be a Smart Piano Shopper: How to Save Money and Avoid Disasters" could help you save thousands of dollars and end up with a great piano you will be proud to own.
Pianos are very expensive instruments. Not many people know as much about evaluating a piano as Charles does. Recently Charles spent two years in his spare time making videos to help people when they want to buy a new or used piano. The video series, called "How to Be a Smart Piano Shopper" combine his expert knowledge of pianos with his understanding of the everyday decisions people make when they are trying to buy a complicated instrument. And Charles isn't going to sell these videos – they will be free upon email request. He's just generously sharing his knowledge, in a fun and animated way. He is truly an educator when it comes to talking about pianos, and he goes out of his way, as he has for decades, to make sure people know as much as they need to about their pianos.
If you live in Nanuet, New York, and you have a piano or want to buy one you should certainly give Nanuet piano tuning expert Charles Flaum a call at 845-542-4706 or check out his website: rocklandpianotuning.com.