Nyack Piano Tuning Expert Charles Flaum
Nyack, New York is an arts-infused and cultured place full of families who make sure their children experience the arts throughout their lives with piano lessons, dance class, drama, singing, painting and many cultural experiences day in and day out. Charles Flaum has been tuning pianos in Nyack since right around 1990 – so he's had customers in Nyack whose pianos he has kept tuneful for decades. Most of his clientele is from word of mouth or referral by piano teachers, if you know someone with a piano in Nyack it's highly likely that Charles is their piano technician. Just ask!
Before tuning your piano Charles will talk to you to find out your piano's history. The first time he sees a piano he gives it a critical appraisal, to see if it just needs a simple tuning or a more aggressive procedure called a pitch raise, which needs to be done in two visits. Why would you need a pitch raise? If you haven't tuned your piano in a long while it sometimes goes too far out of tune to be brought back all the way in one tuning. He'll fully explain to you how that occurs. Then he'll help you get onto a tuning schedule that works for your budget but also helps your piano stay well-maintained. He will honestly tell you if your piano needs more work, and help you prioritize the work that really needs to be done first, allowing you to have a long range plan for bigger fixes in the future. After meeting you and your piano Charles will then spend around two hours tuning your instrument, and he uses every ounce of skilled effort to make sure your piano sounds as close to perfect when he leaves it as he possibly can.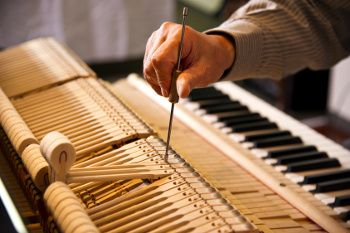 Charles spends between one and half to two hours tuning each piano. He never walks away from a piano without giving it the best tuning it is possible to give.
If you are thinking about getting a new piano, whether trading up or getting a piano for the first time, Charles has an amazing way of teaching people how to find the right piano for their needs. He is such a wealth of information he actually made a 7-part video series designed precisely to help people who are buying a new or used piano. The video series is called "How to be a Smart Piano Shopper: How to Save Money and Avoid Disasters." In the video he uses animation and well-designed analogies, along with many graphics and illustrations and detailed lists to educate people about differences in price and the many choices they can make between models, sizes and styles of pianos.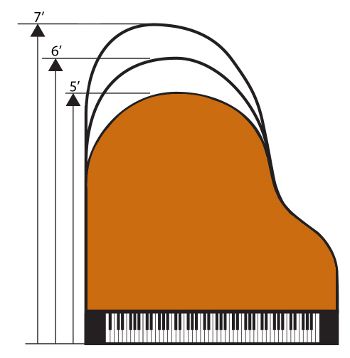 You should ask Charles to explain how piano size affects sound quality – it is really quite eye-opening to understand the correlation between size and tone. Optimum size is bigger than 5'6" – and he explains exactly why in his animated video series.
If your child is studying piano, Charles has many excellent suggestions to make sure your children are seated properly and have an ergonomically comfortable and enjoyable piano to learn to play on. He's known some of his piano customers from the time their children were born to the time they graduated from college. He knows the value of music education for cognition, and his own children have found ways to incorporate music into their adult lives (his son uses drumming therapeutically in his role as an intensive community interventionist). So he's more than happy to help people maximize the value of their children's piano education. He'll always go the extra mile to answer all your questions, and give you the best advice for your particular piano needs and family budget.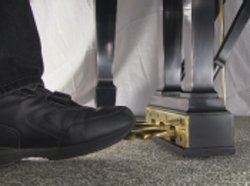 Piano pedals sometimes need adjustment. Are your piano pedals functioning properly, easily and smoothly? Your children will benefit from a nice sounding, easy playing piano!
If you live in Nyack, New York, and you have a piano or want to buy one you should certainly give Nyack piano tuning expert Charles Flaum a call at 845-542-4706 or check out his website: rocklandpianotuning.com.