Suffern Piano Tuning Expert Charles Flaum, RPT
Charles Flaum is a native son of Suffern, and graduated from Suffern High School in the late 1970s. After an interesting journey through professional music college (Berklee) and a two year craftsman education at North Bennet Street School, Charles returned to Suffern to build a piano tuning business in Rockland County and raise his family. Since just before 1990 Charles has helped thousands of piano owners in Rockland County, including families in Suffern and all the surrounding hamlets and villages.
Charles offers many services for piano owners, from simple and straightforward tunings to highly complex technician specialties like voicing, regulation, pin-block replacement, and bridge repair. He can give you advice on diverse topics from how best to clean your piano finish to how to protect your piano from excessive moisture or humidity changes.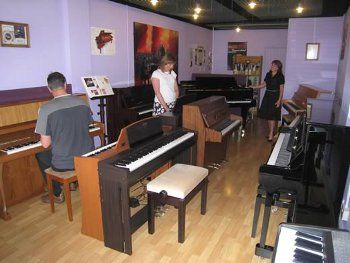 Would you know which upright piano to choose that would be best for you and your family budget? Charles Flaum's video series "How to Be a Smart Piano Shopper: How to Save Money and Avoid Disasters" could help you save thousands of dollars and end up with a great piano you will be proud to own.
When you hire Charles to work on your piano you are hiring a dedicated professional who has your best interest at heart. He will honestly appraise your instrument and tell you about any future repairs you might be looking at. If you need more advice he can help you prioritize and plan when and how to get those bigger repairs done. He is also a tremendous ally in the search for a new piano (now is a great time to upgrade – there are many fine pianos available for historically low prices). Charles knows the piano market very well and he can tell you exactly what you are looking at before you buy. His advice is so invaluable he has recently made a 7 part video explaining all the complex choices and strategies good piano purchasers need to think through before they buy. These videos are free, and available through a simple email request. Ask him to send you an invitation to the first video in the series!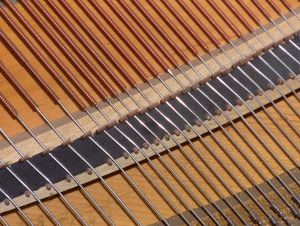 This is a piano bridge. Charles has repaired and replaced cracked bridges in Rockland County for over twenty years. It is a job requiring craftsmanship, mathematical precision and a vast depth of knowledge!
Above all, Charles realizes that his customers are educated and cultured people who want the best for their family. He appreciates their diverse walks of life and the interesting careers his piano clients enjoy, and he learns so much from everyone he meets. When customers have children who are taking piano lessons, Charles can not only suggest great teachers, but he also can actually make the piano ergonomically better for children to play! Charles also can adjust the action of a piano to make the keys easier to play. A properly regulated piano can require less effort to push down the key, faster repetition, and helps young fingers get a more musical result. Charles can improve the sound quality and responsiveness of the keys and pedals so that children can hear the difference and feel the touch difference in relation to the sound difference, which helps tremendously for children to make cognitive and esthetic and kinesthetic aural connections, the heart of neural cognitive benefits from music education. A piano that sounds wonderful and whose pedals and keys are easy to push down helps your youngster concentrate better and enjoy learning and practicing much more!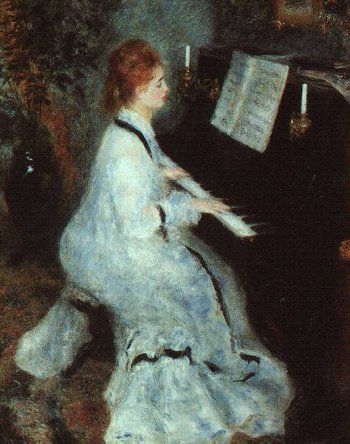 Renoir's wife Aline playing the piano. Have you ever noticed how many movies and commercials feature pianos? If you notice, pianos are everywhere!
For Charles, culture, education and pianos go hand in hand. He's enjoyed the piano playing community of Rockland county for over twenty years, and he's a big reason why the pianos in our county sound so beautiful.
If you live in Suffern, New York, and you have a piano or want to buy one you should certainly give Suffern piano tuning expert Charles Flaum a call at 845-542-4706 or check out his website: rocklandpianotuning.com.